Printing
When you choose | Print... |, Logisim displays a dialog box for configuring what is printed.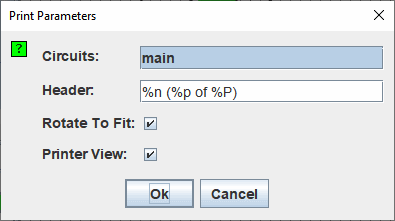 Configuration of the printing
Circuits: A list where you can select one or more circuits to be printed. (Empty circuits are not displayed as options.) Logisim will print one circuit per page. If the circuit is too large for the page, the image will be scaled down to fit.
Header: Text that should appear centered at the top of each page. The following substitutions will be made into the text.

| | |
| --- | --- |
| %n | Name of circuit on page |
| %p | Page number |
| %P | Total page count |
| %% | A single percent sign ('%') |

Rotate To Fit: If checked, then Logisim will rotate each circuit by 90 degrees when the circuit is too large to fit onto the page and it does not need to be scaled as small when rotated 90 degrees.
Printer View: Modifies the style of the image produced with status information or only the schematic with data width information.
After clicking OK , Logisim will display the standard page setup dialog box before printing the circuits.