Arbeitsbereich
The canvas is really the most visible part of Liogisim-evolution is where you draw your circuits and their symbol to finally simulate the operation.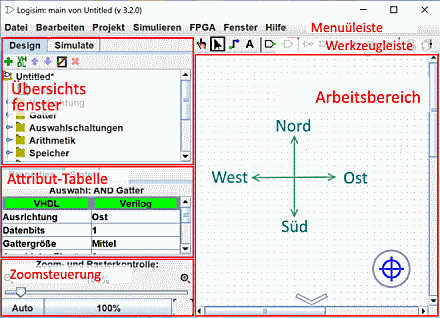 It is composed of only a few elements:

Horizontal and vertical scroll bars: They work as in most programs, just drag the sliders to move the view to other parts of the drawing. They can also be manipulated from the keyboard or mouse with the following combinations:
Mouse wheel or keys low/up arrow: vertical scrolling
Alt-Mouse wheel or keys right/left arrow: horizontal scrolling
Key PgUp: go to the top of the page
Key PgDn: go to bottom of page
The zoom: On the bottom left is the display of the current zoom factor (100% in the figure). you can change it with the two buttons to the right of the rate display or with Ctrl + mouse wheel

The grid button: On the right of the zoom, Toggle mode alternately "grid displayed" in the mode "invisible grid".
Weiter: Menüs.